How to Make a Folded Paper Gift Box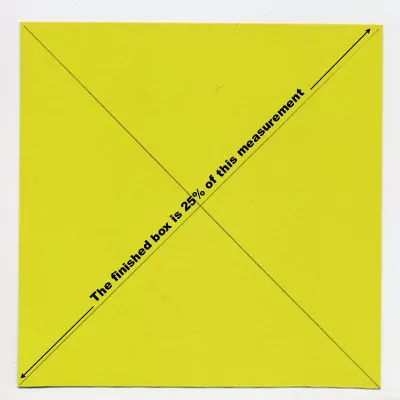 Materials Required
Square of cardstock (any size, the finished box will end up 25% of the diagonal measurement)
Pencil and ruler
Bone folder
This is a clever design for a box that can be adapted to any size of square. The top, sides, bottom and even inserts for the inside can all be stamped.

Any sized paper can be used as long as it is a square. The finished box will always end up a quarter of the size of the original square when measured from corner to corner.

Take any size square of paper or cardstock. Draw two lines diagonally from corner to corner. This will form a large X, marking the center of the square. Don´t worry about marking the paper as the marks will be on the inside and therefore will not be seen.

Tip: Practice on scrap paper and keep any finished boxes to try different rubber stamp positioning and techniques.



Fold the cut ends in at either end of the box.

Fold the two remaining pieces into the middle of the box, this will securely hold the box together and there is no need to add glue.

Make a base in exactly the same way, however, cut the square a fraction smaller so the base will fit into the top.

Finish the box with stamping or embossing. Try adding stamped embellishments, or stamp some ribbon and tie into rosettes to top the boxes.